The material of automatic sliding door is environmental protection galvanized steel panel, anti-fouling, environmental protection, with the characteristics of thermal insulation, sound insulation, moisture resistance, antibacterial and easy to clean. The door body is fast and easy to install, the door body has good sealing, prevents pollution, and greatly improves the cleanliness of the space inside the medical door. It is mainly used in hospitals, ICU wards and other environments with clean levels.
| | |
| --- | --- |
| Door frame steel plate thickness | 1.5mm |
| Door leaf plate thickness | 0.8mm |
| Door leaf thickness | 40mm |
| Opening method | Foot sensor/hand sensor |
| Safety assistance | Infrared safety light |
| Opening speed | 250-550mm/s (Adjustable) |
| Closed door running speed | 250-550mm/s (Adjustable) |
| Internal filling | Paper honeycomb/Aluminum honeycomb |
| Windows | Right angle/rounded corner |
| Maximum opening size | Single open 1350mmx2500mm, double open 2500mmx2500mm |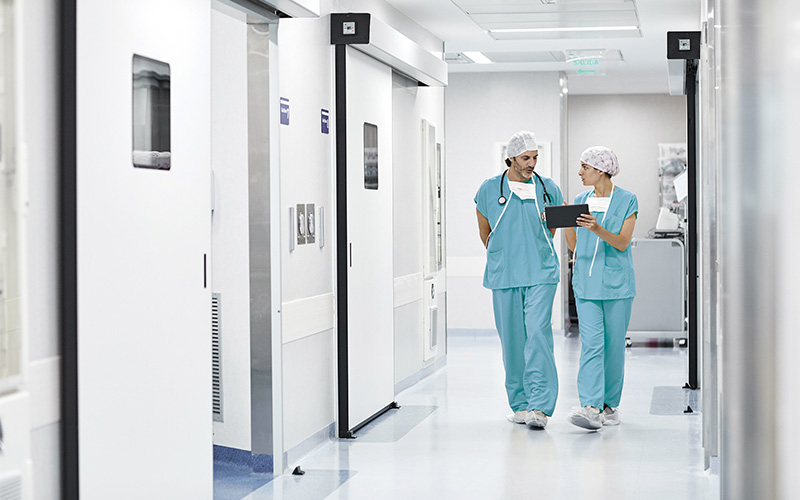 Advantage
1.The steel door is made of environmentally friendly galvanized steel plate with electrostatic sprayed surface,anti-fouling,environmental protection,safe, antibacterial and corrosion-resistant.
2.Single-seam splicing on the side of the door leaf, aluminum alloy doors and windows, no joint process on the surface of the door frame, simple, beautiful and easy to clean.
3.It is suitable for places with low purification requirements, beautiful in shape and light in opening.

4.Professional designers carry out door body shape design in various forms to meet the individual needs of different customers. Suitable for wards, dirt doors, auxiliary rooms, offices and other places.
5.Adopt various forms of door hole edging, and is equipped with high-strength and wear-resistant sealing strips to meet purification requirements.
6.Door body can choose aluminum alloy door frame environmental protection filling process, aluminum honeycomb filling process and steel door body.
7.According to customer requirements can be equipped with door locks, door closers and floor springs and other accessories.
8.Precision manufacturing, from material to production process, hardware accessories to ensure product quality, so that product life is greatly increased.
9.The use of high-quality hardware accessories, elegant and reliable use.